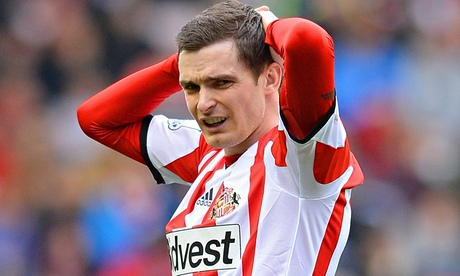 Sunderland's Adam Johnson. Photograph: Mark Runnacles/Getty Images
Adam Johnson believes it is near impossible for players not belonging to the eight leading Premier League clubs to break into Roy Hodgson'sEngland squad.
Sunderland's former Manchester City winger was a surprise exclusion from Hodgson's 30-man party selected earlier this month for the friendly win against Denmark. Johnson had been heavily tipped for inclusion after scoring seven goals in nine games, winning January's player of the month award and helping to revive Sunderland's hopes of avoiding relegation.
Yet when the England squad was named the only outfield players not from Arsenal, Chelsea, Tottenham, Manchester United, Manchester City, Liverpool, Everton or Southampton were Toronto's Jermain Defoe and Cardiff's Steven Caulker, both former Tottenham players. Meanwhile Andros Townsend, a winger who was included, had last started a Premier League game for Spurs on 10 November.
"I think a lot of people were surprised," said Johnson who has 12 senior caps. "I think a lot of people saw me as almost a certainty but if you look at the last squad it was almost all top eight bar Caulker, who wasn't meant to be in it but for [Phil] Jagielka's injury. I think that says a lot about the selection. I don't think it really matters how well you're playing, it's who you play for.
"It's a fact isn't it? If you look at the last 10 squads: Southampton have been playing well, they're in the top eight' and the rest are Everton, Tottenham, Man United, City, clubs like that.
"All my caps came when I was at City. Sometimes I got picked when I wasn't playing. Now I'm playing more and I can't get a cap. It's just a fact. It's not me being sour. Some of the players, if they weren't playing for the big clubs, wouldn't be anywhere near it [the squad].
"I came to Sunderland to play more, rather than thinking about England. But some games I wasn't even on the bench at City but I was still in the England squad. I felt Denmark was probably the closest I'd been under Roy Hodgson. But in his mind I don't think he really wanted any big decisions to make so he stuck with the players who had been around since the start of the campaign. That's life, that's the way it goes. It will be interesting to see how it goes in the World Cup and what happens after."