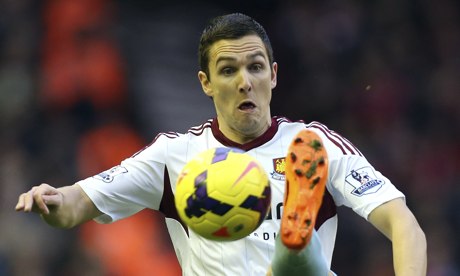 Stewart Downing says that Sam Allardyce is 'a good manager' and that West Ham's players 'love playing for him'. Photograph: Peter Byrne/PA
For West Ham and Stewart Downing, Sunday's FA Cup meeting withNottingham Forest provides some welcome relief from recent woes. The Hammers have secured two points out of a possible 21 in the Premier League since the beginning of December, so the prospect of a match against Championship opposition, however tricky, at least represents an opportunity to end a barren run.
Sam Allardyce's position as manager has come under intense scrutiny since the New Year's Day defeat at Fulham, but on Friday he dismissed any talk of crisis despite the club's worrying position at second-bottom in the top-flight.
Allardyce has certainly been hindered by injuries this season, with Downing just one of a plethora of players who have been forced to endure spells on the sidelines, following a gash to his calf sustained against his former club Liverpool.
The 29-year-old has suffered relegation. The winger was part of the Middlesbrough side that dropped out of the Premier League in 2009 and he is not keen to repeat the experience. However, he insists that Allardyce remains the man to steer West Ham out of the dogfight.
Asked if the players were responsible for the club's plight rather than the manager, Downing said: "Of course. The manager picks the team but it's up to us to go out and get results and that's what we've not done.
"The easiest thing is to blame the manager because he's at the top. I think he does very well at that, he takes a lot of the pressure off the players but he's one of the reasons why I came here. If you look at it as a whole we've been very unlucky. It's up to us. The manager picks the team but it's up to us to get the results.
"We love playing for him. The owners know, they see sense and see a good manager. It's easy to sulk and point and blame, but you've got to go out and get results.
"The main thing at the minute is to win games. Behind closed doors we stay strong, we are playing for a really good manager who has been in these situations before. No one wants to be relegated on their CV. I've been through that before with my hometown team and it's difficult, you're living in the area and people are asking questions all the time. But we were a young team, when I look at this team it's a lot stronger, with more experienced players."
Downing is relishing the prospect of an imminent return to fitness for Andy Carroll, a striker who the winger said was another of the reasons why he opted to join the club last summer. Carroll trained on Friday, along with Ravel Morrison, but will not feature against Forest with Allardyce set to experiment with a number of players that have emerged from the West Ham academy.
Carlton Cole, Joe Cole and Matt Jarvis will be expected to help the youngsters through what could be a tricky test against Championship opponents, with Downing claiming that it represented a chance for the lesser-known players to stake their claim for a place in the first-team. "It's a massive opportunity for them," he said. "If the manager sees a performance on Sunday he might stick them in for a league game, you never know."
Winning any game breeds confidence, Downing insisted. That will be the message Allardyce emphasises to his squad as they attempt to end a rut that has not been enlivened by a league victory since November.
Yet for Downing, there are no regrets about joining West Ham. "It's been difficult, getting 11 out at times has been difficult for the manager. In that sense it was always going to be tough for us. [West Ham] finished in 10th position last season, so it was a chance to build on that and the next thing you look at is can you get in Europe, can you nick one of those spots? With the players we have and with the signings that Sam made we had a good chance of that [at the start of the season].
"I can understand his frustration. It's frustrating for us players as well. I'm desperate to play and do well for him but I've had two niggling injuries. But if he sees the bigger picture, once he gets everyone back and fit he's got a really good team."