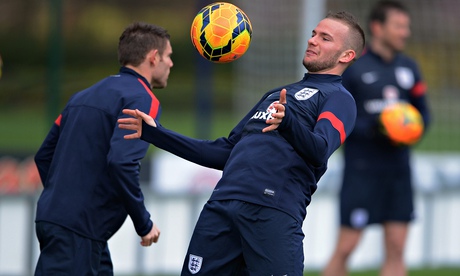 10,000 people have signed an online petition calling for Tom Cleverley to be dropped from England's World Cup squad. Photograph: Michael Regan – The Fa/The FA via Getty Images
Roy Hodgson has lashed out at the 10,000 people who have signed up to a petition calling for Tom Cleverley to be excluded from England's World Cup squad.
Cleverley has come in for strong criticism this season for his performances for Manchester United, but the midfielder remains a regular in the national set-up.
One England fan – Glenn McConnell from Blackpool – took exception to Cleverley's latest call-up last month when he launched an online petitioncalling for the 24-year-old to be "banned" from the World Cup.
McConnell hit out at Hodgson for handing the "inept" Cleverley 13 caps when the midfielder, in his opinion, does not possess "any genuine qualities whatsoever".
Over 10,000 people have signed up to the cause online. Some of them have left derogatory comments on the webpage that hosts the petition – something that Hodgson is not happy about at all.
"That petition does not impress me, I must admit," a visibly irritated England manager said.
"I'm disappointed that Tom, as a sensitive young man, has got to bear that burden, but I know one thing – he will come through it and when he does come through it and Manchester United start winning again, and he's starting to get praise for his performances, he'll be stronger for it."
Cleverley said recently he was annoyed at being a scapegoat for United's recent troubles.
The re-emergence of Jordan Henderson has cast doubt on whether Cleverley will make the 23-man squad for Brazil.
But Hodgson refuses to ditch the Manchester United midfielder, who played the first nine games in England's World Cup qualifying campaign.
"The fact is Tom Cleverley, from the moment the Euros ended, has been a part of the England set-up, he's played some very good games for us, he's been a very useful member of our group," said Hodgson, who may play Cleverley in Wednesday's friendly against Denmark at Wembley.
"Quite frankly, I saw no reason, when selecting a larger group of players here (for the Denmark game), to leave him out of the team because, perhaps at this moment in time, his team isn't doing well and he's receiving criticism for it.
"I don't think it's really correct that people should single out one player for Manchester United's lack of success this season. I don't think you can expect me as a football person and football coach to have any sympathy with that, and I would like to think that I'm not going to have the England team selected in the future by petitions from various people who are holding it against one person for a team's lack of success.
"So as far as I'm concerned, Tom Cleverley deserves to be in this group of 30. He's done an awful lot of good for us."