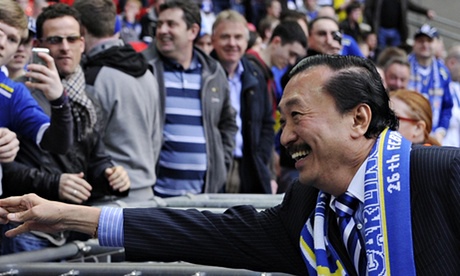 Cardiff's owner Vincent Tan meets and greets fans before the 2012 League Cup final against Liverpool. Photograph: Tom Jenkins for the Guardian
The Premier League will write to Cardiff City to ask for further information on an illegal bonus offered by the owner Vincent Tan to players before their match with Tottenham Hotspur on Sunday.
The controversial Tan reportedly offered his players a share of a £3.7m cash bonus if they manage to avoid relegation, contravening Premier League rules that say any bonuses must be outlined before the start of a season.
"Full details of a player's remuneration including all benefits to which he is entitled whether in cash or in kind shall be set out in his contract. The terms of a contract between a club and a player shall be strictly adhered to," reads the Premier League rule.
However, it is understood that Cardiff are unlikely to face a full investigation. A club spokesman said Tan was unaware of the rule and the bonus offer has since been withdrawn.
Cardiff City's chairman Mehmet Dalman said Tan had no executive powers to offer bonuses to players.
Bonuses for avoiding relegation are commonplace but must be made clear in players' contracts before the season begins and lodged with the Premier League.
A spokesman for the Malaysian businessman told the Sun newspaper: "Vincent didn't realise it was against the regulations. He has since rescinded the offer, which he made only with Cardiff's best interests at heart."