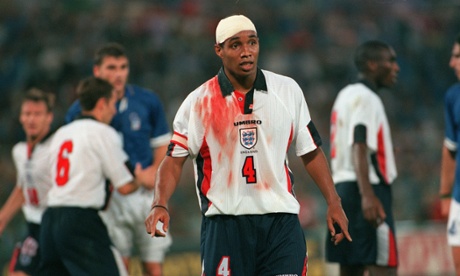 Paul Ince has rejected Sol Campbell's claim that he would have been England captain "for 10 years" if he had been white.
Ince, the first black man to wear the armband for England, is the latest figure to argue against the views expressed by Campbell in a new autobiography serialised in the Sunday Times.
Campbell was capped 73 times but skippered the side only three times.
Ince pointed to the long list of England captains, arguing that most had to make do with relatively short stints in the job.
"There's been me, [Tony] Adams, [Stuart] Pearce, [David] Seaman, [Alan] Shearer, [John] Terry, [Rio] Ferdinand … that's a lot of big names with a lot of big egos," Ince told the Daily Mail.
"Sol's a clever, articulate man and he's a friend of mine but he wouldn't have been England captain for 10 years – nobody is.
"He has obviously had different experiences to me as a footballer and I can only really talk about my own."
Ince was made captain of England for the first time in 1993. He was initially reluctant to be known as the first black captain, but said he later came to realise the significance of the moment.
"For me it was the pinnacle of my career when Graham Taylor made me captain, but I can remember feeling uncomfortable with the questions," he said.
"I just wanted to be the England captain, I didn't want to be remembered as the first black England captain because I didn't look at it in that way.
"Then, after the game, I began to look at it in a different way because I had a lot of parents from the ghetto sending me letters telling me it had inspired their children to get jobs or to start playing football.
"I don't know whether they were black, white or Asian or whatever, but it didn't matter. That meant a lot, to think that somehow I had inspired people I had never even met."