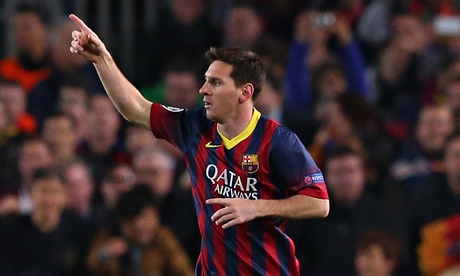 Lionel Messi celebrates after scoring for Barcelona against Manchester City in the Champions League. Photograph: Alex Livesey/Getty Images
Fear? What fear? When the moment came, Lionel Messi barely flickered. His left foot, though, did. There were just over 20 minutes remaining when he scored the goal that effectively put Barcelona through and eased the nerves at a club who, ridiculous though it may sound, have seemed on the verge of a crisis lately. The ball dropped to him inside the area and time appeared to slow. Calmly, he lifted the ball into the net and Barcelona into the quarter-finals.
With that goal, Messi kept up his run of scoring in every Champions League game this season, with eight in five matches. He also overtook Raúl as the player with the most Champions League goals for a single team, on 67, and moved to within a solitary goal of becoming Barcelona's all-time top scorer after Paulino Alcántara, who managed 369 from 1912-27. This was a superb performance from Messi, one that reawakened the optimism in Catalonia.
For Joleon Lescott, in particular, it was a difficult night and he ended up looking like a man with two left feet. Messi has only one – but what a foot it is. There have been doubts about him and his team too but you would not have known it. Barcelona's bus arrived at 7.10pm. As it pulled up on the Camp Nou concourse, Bon Jovi's Because We Can boomed out. Unlikely though it may seem, some may have needed convincing.Barcelona had a 2-0 lead from the first leg but there has been a vulnerability about the team and a gloominess to the atmosphere.
"We lose a game and it is as if someone died," Alexis Sánchez, the midfielder, said earlier. Vincent Kompany had justifiably insisted that if City scored first the dynamic would change. Fear would follow.
Messi was among the last to disembark the bus, alongside Cesc Fábregas, team-mates since they were 13. Dani Alves had come through "drumming" to the music while Gerard Piqué took refuge in giant headphones and other tunes. Messi appeared impassive as ever and when the players shook hands pre-game, he seemed to be nonchalantly eating.
The responsibility, though, was great. Messi, too, has been questioned of late. The Argentinian coach Angel Cappa has suggested that at times he looked like he had lost the "passion" and "madness" for football.
Statistics showed it was not only the number of Messi goals that had dropped (from 34, 31, 50 and 45 in the league over the past four seasons to 15 so far this), it was also shots, passes and plays. In total, he is involved in a third as many plays as he was in his most active season, 2011-12.
But the Barça manager, Gerardo Martino, had warned that Messi has a habit of making the doubters look daft and here the forward was involved often.
Kompany had also been alert to the risk of City focusing too much on Barcelona's poor recent form, insisting: "The beast might wake." He was right – and about Messi in particular. There was an aggressiveness, intensity and intent about him that was immediately apparent. In the third minute he sprinted 35 metres back towards his own goal, pursuing his friend Sergio Agüero until he caught him and came away with the ball. All round the stadium fans were having the same conversation: Messi looks alive. Three minutes later he found Andrés Iniesta with a neat pass and just after that he was sharply on to a loose ball, stepping away from Lescott with his first touch, only to be brought down.
It was a penalty but the referee looked away. Messi soon dashed into the area on the right, away from Lescott again. When Joe Hart failed to hold the ball the Argentinian turned inside on the byline but Kompany slid in to stop him.
Messi was alive, all right. With each touch he had, each run he made, space opened. There was a clever angled pass from which Xavi toe-poked a shot at Hart and just before half-time he found Neymar, feet flashing fast, dashing through the middle, before releasing the pass. His shot was headed off the line. The Brazilian also hit the side-netting and had a goal wrongly ruled out for offside. Here were hints that perhaps the pair can combine.
The second half began with Messi's best opportunity yet, back in the territory he left behind to become a central figure four years ago. He set off up the right wing, coming inside, away from Lescott, and holding him off as he ran across the area. His side-footed shot came back off a post.
As the No10 held his head in his hands, the Camp Nou chanted his name. "Messi! Messi!" Soon, they would chant his name again. Next he pulled a shot wide from 25 yards and he later controlled impeccably to set up Xavi for a shot.
When Fábregas's pass rebounded off Lescott's heels, Messi was there. Barcelona were through, their crisis averted.