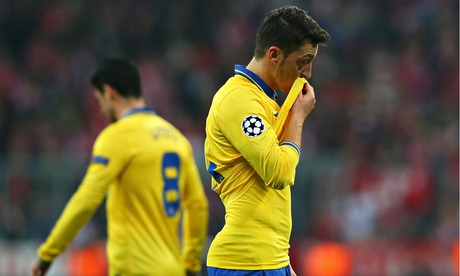 Mesut Özil suffered a hamstring injury and was taken off at half-time at Bayern Munich on Tuesday. Photograph: Alexander Hassenstein/Bongarts/Getty Images
Arsène Wenger must take the blame for Mesut Özil's poor form forArsenal, according to Gary Neville, having failed to give the German midfielder a proper break over the winter period.
Özil was under par yet again at Bayern Munich in the Champions Leaguelast-16 second leg on Tuesday and was taken off at half-time with what was later described as a serious hamstring problem.
The England coach and Sky Sports pundit Neville believes the £42m summer signing should have been given a rest over Christmas, just as Cristiano Ronaldo was at Manchester United.
"He's obviously dipped this last couple of months and first season in a new league can take some getting used to, even with the price tag," Neville said. "Some players can carry lack of form better than others. His body language suggests he struggles and at the moment looks like he's finding it difficult mentally.
"On a Christmas break, there is no excuse really for an experienced manager. He could have given him one in the first two weeks in January. Ronaldo used to get one."
Neville said that Özil will prove a good signing if Arsenal add some reinforcements up front to complement him.
"Arsenal are better for having him and he will return strong. Some are rightly pointing out others who have been up and down in the first season but then improved second and third," he added.
"He will improve more when he has a striker that runs beyond and provides movement for his strengths. Every good No10 needs two to three players that make runs behind and sacrifice themselves. It's a modern game problem – too many want to be a No10!"