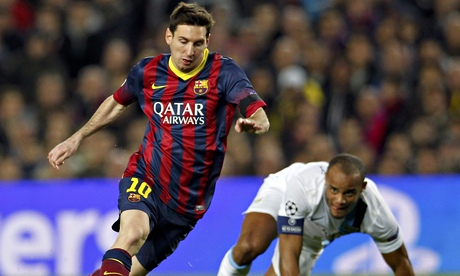 Barcelona's Lionel Messi slips away from a tackle by Manchester City's Vincent Kompany at Camp Nou on Wednesday night. Photograph: Albert Gea/Reuters
The Champions League is a tough, unforgiving competition andManchester City, once again, have been consigned to the role of jealous onlooker. This may not be the devastating, pass-the-opposition-to-deathBarcelona that bewitched everyone in the Pep Guardiola years – not at the moment anyway – but this game was still a reminder about the brutalities of football at the highest level, and particularly when the opposition includes Lionel Messi.
He tormented City at times. He was everywhere, always wanting the ball, and always knowing the right thing to do with it. Messi chose a good moment to remind everyone there really is no more electrifying sight in football than the four-times Ballon d'Or winner with the ball at his feet, picking up speed and hurdling challenges likes a series of invisible tripwires. It was a blur of speed and movement and the unfortunate truth for Manuel Pellegrini is that, in this company, Joleon Lescott is always likely to give his opponents something.
Lescott was starting to look bewildered by the time he unwittingly played his part in the one goal that really mattered out of the three. It was delivered, off the outside of Messi's left boot, midway through the second half and an air of inevitability descended as soon as the ball reached Joe Hart's net. With City already 2-0 down from the first leg, that was the moment everybody knew the challenge was beyond them.
It was an eccentric finale and the goal Vincent Kompany turned in from close range with a couple of minutes to go was never going to carry any real significance at such a late stage. Even then, however, there was one more indignity for City. Andrés Iniesta set up Dani Alves to fire his shot through a congested penalty area and that was the point virtually half the City team could be seen on their knees or lying flat-out on the turf.
By that stage they were down to 10 men after another refereeing decision that will convince Pellegrini his team suffered badly over the two ties because of poor officiating. City were convinced they should have been awarded a penalty for Gerard Piqué's 78th-minute challenge on the substitute Edin Dzeko but the French referee, Stéphane Lannoy, waved play on and Pablo Zabaleta took his protests so far that he was shown a second yellow card.
City had a reasonable grievance on a night when Pellegrini was already barred from the dugout because of his lacerating post-match comments about the Swedish referee Jonas Eriksson after the first leg. Yet there was more to City's defeat than trying to pin the blame elsewhere.
A team cannot come to the Camp Nou and expect to win unless everyone is at their peak and the unfortunate truth is that this was probably Sergio Agüero's most undistinguished performance in City's colours. While Messi dazzled, Agüero faded away. He tried three passes in the first half and the only one that reached a team-mate was from the kick-off. He did not reappear after half-time and the club said later that he had a hamstring injury. City were much more forceful in attack once Dzeko had replaced him.
Messi versus Lescott was a lop-sided contest. Early in the second half, Messi waltzed past the defender and put his shot against an upright. There had already been other warnings and the next time Lescott showed his vulnerability, unable to intercept Cesc Fábregas's through ball and inadvertently playing the final touch to Messi, it was a gift a player of this quality was not going to pass up.
Barcelona had come into this game after slipping to third in La Liga, on the back of three defeats in their past six games. They had been facing intense criticism in the Catalan media and it was always going to be a case of whether City could score first and bring out any underlying sense of nervousness inside the Camp Nou.
Yet Messi, slaloming past defenders, was a constant menace. Neymar, though a few grades down on his colleague, was another elusive opponent while Xavi Hernández and Iniesta orchestrated proceedings in their midfield positions. Hart had to produce a string of saves to keep the score down.
City could reflect on reasonable chances for David Silva and Samir Nasri in the first half but it was not until Dzeko replaced Agüero that they started to be emboldened, playing with greater adventure. At 0-0, Dzeko's header brought a sprawling one-handed save from Víctor Valdés. Soon afterwards, Pique's saving tackle denied Fernandinho at close range.
Messi, however, always shimmered with danger and his goal snuffed out any worries. Kompany's equaliser came from a corner, applying the final touch to Dzeko's header, despite Barça's protests that at least one player had been offside. The home team had other complaints about a disallowed goal for Neymar in the first half but by the end of the night that was a mere subplot. The real story was of Messi, in full flow, demonstrating to City that they still have some way to go before all that hard ambition and financial power brings them what they want.