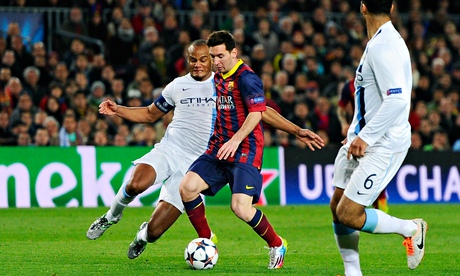 Vincent Kompany tackles Lionel Messi, as Barcelona won the Champions League game 2-1 and 4-1 on aggregate. Photograph: David Ramos/Getty Images
Manchester City's elimination from the Champions League was accompanied by fresh concerns about Sergio Agüero's fitness but a firm declaration from their captain, Vincent Kompany, that the club would not allow the most disappointing week of their season to spill over into the Premier League.
Manuel Pellegrini's team now travel to Hull City for the early Saturday kick-off with Kompany admitting they "had nothing left in the tank" at the end of a 2-1 defeat against Barcelona, completing a 4-1 aggregate loss and exit at the last-16 stage.
Lionel Messi opened the scoring in the second half and Pablo Zabaleta had been sent off before Kompany equalised in the 89th minute. Dani Alves quickly restored the home side's lead on a night when Agüero was taken off at half-time with a recurrence of his hamstring troubles. "It is very early, so we cannot say how long he is going to be out," Rubén Cousillas, Pellegrini's assistant, said. "Hopefully, it is nothing serious, but he felt some pain. It is more a precaution, but we are doing some tests to assess it."
The Argentinian will have a hamstring scan when back in Manchester. Agüero said: "I felt a twinge in the leg early on after a challenge with Messi. I carried on with it for the rest of the half but at half-time we decided not to risk it."
City were knocked out of the FA Cup by Wigan Athletic on Sunday and have fallen nine points behind Chelsea at the top of the league, albeit with three games in hand. "If anything it should give us motivation," Kompany said of City's Champions League elimination. "The way we played against Wigan, the performance tonight was completely different. Only the winners get remembered, but it's only the third year ever for Manchester City in the Champions League. I'm looking at this and I don't see why next year we should fear anyone."
Zabaleta was sent off for his second yellow card after reacting angrily to the French referee, Stéphane Lannoy, not awarding a penalty for Gerard Piqué's challenge on the substitute Edin Dzeko. "Sometimes shocking decisions make you a little bit angry," Zabaleta said. "Piqué came from behind and the referee was only two metres away. He saw it very clearly. I don't know why I got a red card because I went to him to talk in a good way. I was a little bit angry because he didn't give the penalty but I was always respectful to him. I am very frustrated because it was a shocking decision."
Kompany added: "Over the course of two games, whenever there was 11 players [against 11], there wasn't much between the two teams. Messi is an incredible player and whenever he has the ball danger can happen, but outside of that we had huge chances. If we score, we're looking at a completely different game."
Cousillas was speaking because Pellegrini had passed on media duties after his two-match touchline ban for castigating the Swedish referee, Jonas Eriksson, after the first leg. "Our project is just starting," Cousillas added. "We have just won our first silverware [the League Cup]. Until last weekend, we were the only team chasing four trophies. We are out of two, but still very much alive in the Premier League. The team have been through some low times, but we are alive and we will fight for the title."
City's strikers have now not scored since the 5-1 defeat of Tottenham Hotspur on 29 January. "We had three or four chances with one striker [Dzeko] in the second half, so we showed we can still create chances," Cousillas said. "At one point, the strikers were scoring with every chance they had, but that is not happening now. The players are aware of this and are working hard to correct this. But they are human beings, not machines, and they go through some low times. We tried to score but we could not convert our chances and we know Messi can create magic at any time."