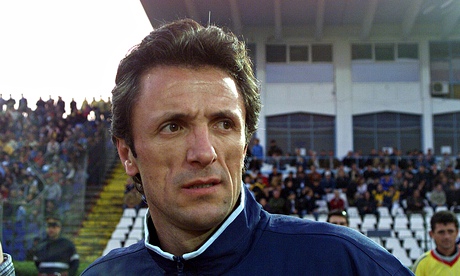 Gheorghe Popescu has been sent to prison for over three years for his part in a corruption scandal in Romania. Photograph: Hepta / Barcroft Media
A Romanian court has handed prison sentences to eight football officials including the former Tottenham and Barcelona defender Gheorghe Popescu for tax evasion and money laundering.
Popescu, who also played for PSV Eindhoven, Barcelona and Galatasaray, was sentenced to three years and one month.
The 46-year-old, who was named player of the year in Romania six times, had been among the favourites to become president of the domestic football federation, with elections taking place on Wednesday.
He was capped 115 times by Romania and is considered one of the best players to have played for the country. He was a key member of the Romania team at the World Cup finals in 1990, 1994 and 1998 and at the European championships in 1996 and 2000.
Steaua Bucharest's general manager Mihai Stoica was sentenced to three years and six months, the former Rapid Bucharest owner George Copos received three years and eight months and the former Dinamo Bucharest owner Cristian Borcea was jailed for six years and four months.
The Bucharest court of appeal said in a statement: "The sentences cannot be appealed and are deemed final."
The court found that the state lost €1.7m in taxes and the clubs lost €10m because the officials registered false sums for the transfers of 12 players between 1999 and 2005.