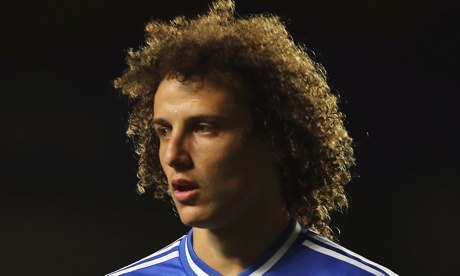 Look at those locks! Photograph: Clive Rose/Getty Images
"Big Website seeks shabby, loyal insomniac. Must be a morning person, ideally with not-very-GSOH and a reliable internet connection."
Word on the proverbial street is that the Mill was being lined up for replacement. Frankly we always knew this day was coming – spreading rumours and talking daily codswallop was always going to catch up to us – but we just were hoping that our death would be a subtle one, in which we could slip into retirement with our dignity and integrity intact, rather than a post-it note stuck on the office coffee machine.
Big Website are not the only job-hunting behemoths on the prowl for a like-for-like replacement. After Carles Puyol announced his decision to leave his Barcelona post after 15 years in the job, the Catalan club are said to be lining up another £25m bid for Chelsea's David Luiz, having been knocked back last summer; 'like-for-like' of course being used in reference to the Brazilian's curly-hair-raising similarity to Puyol, rather than Luiz's weakness for a Cruyff turn or a risky pass in defence.
The said street are convinced that with the arrival of Kurt Zouma from Saint-Etienne, and with John Terry set to be offered a contract extension, Chelsea would consider selling, with Barcelona hopeful that the deal would be concluded before the World Cup, as winning the best tournament in the world would significantly drive up the asking price.
Liverpool have decided that their really good strikers aren't good enough and are said to be tracking Lyon forward Alexandre Lacazette. With the French club in a bit of financial bother, £10m is said to be enough to tempt Lyon to sell the 22-year-old, who has scored 14 goals this season, and who has also attracted attention from Arsenal and Tottenham.
Another Frenchman eyeing a move over the Channel is Montpellier'sRémy Cabella. Newcastle, frothing at the prospect of more Gallic blood, are said to want to add the attacking midfielder to their ranks to replace Yohan Cabaye but his colourful current club president, Louis Nicollin, isn't so keen to see Cabella go to the north-east, having sold "my dear Mapou Yanga-Mbiwa" to Newcastle in January last year. "Newcastle? They're good, aren't they? Don't make me laugh," mocked Nicollin. "In England, you should play at Arsenal or Chelsea or either of the Manchester teams at a push. We promised to let him leave. But I'll advise him not to leave for just anywhere."
Meanwhile, Internazionale are set to swoop for Arsenal's Lukas Podolski, but may lose out on Nemanja Vidic, who is apparently open to a switch to Galatasaray instead.
Even with Vidic departing, Rio Ferdinand out of contract and Chris Smalling being used at right back, Michael Keane is not expected break into the Manchester United side any time soon, and will therefore go out on loan to Blackburn Rovers, who are also about to offer Jordan Rhodes a new five-and-a-half year deal, in an attempt to ward off interest from West Ham and Swansea.