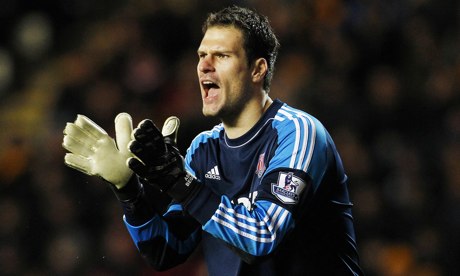 Asmir Begovic: set for Old Trafford? Photograph: Craig Brough/Action Images
Whatever else is said about David Moyes, his ability to fall out with his players can only be admired. Accordingly, the likelihood is that bothRobin van Persie and Javier Hernández will leave Manchester United this summer, and why not? Neither has played a crucial role in recent successes, after all.
But this is immaterial, really – Wayne Rooney is staying, and no team really needs more than a wheezing cipher and joyless accumulator all mixed. Nonetheless, for the sake of appearances, replacements are expected. Moyes plans first to boot out the good players he's decided not to like, followed by the useless ones he continually selects, such that United may welcome as many as 76,029 new arrivals this summer. One of these might be Álvaro Morata, whom Real Madrid would like to stay, but whose contract expires in 2015; Arsenal and Juventus are also interested.
As befitting a man with a name suited to the liberal industries, Toni Kroos continues to titillate United with the outrageous notion of his moving there from Bayern Munich. "I would consider everything, if I should leave," he said, an untruth if ever there was one; what are the chances, for example, of his mental perambulations addressing the resilience of agrarian societies in modern Africa? Typical untrustworthy modern footballer.
However, while Kroos makes long bacon at the world, United are talking to Sporting Lisbon about signing William Carvalho and his hardly any top-flight games, his no Champions League games, and his four international caps. For £29m. The proposed deal will pioneer a new system of tribunal known as the solo laughter auction, in which a desperate buyer is left to bid itself up, and the value is determined by when the seller can no longer contain his maniacal cackling.
And still that's not it for United. They are also looking at replacing Anders Lindegaard with Asmir Begovic, as the uselessness of their reserve keeper is precisely the reason they find themselves in such a pickle. And still that's not it for United. They remain keen on Mehdi Benatia, the excellent Roma centre-back, and have also watched PSG's Alex, for reasons unexplained.
Meanwhile, Richairo Zivkovic, in whom Manchester City andLiverpool were interested, is thought to be moving to Ajax. The Groningen winger has scored a princely total of five goals this season, has already met with Frank de Boer, and would cost around £2m.
Elsewhere, Aly Cissokho will not be moving to Anfield permanently, Brendan Rodgers employing his fabled skills of extra-sensory perception to deduce that he is, in fact, rubbish. Also thought to be problematic are the player's teeth, no longer welcome at Liverpool now that the manager is the proud owner of a new mouth.
But one man who is wanted on Merseyside is Manchester City's Jack Rodwell. His inability to get a game at "the Capital One Cup winners", nor shake off his injury issues, has not deterred Roberto Martínez from seeking his signature. Everton tried to borrow him on the final day of the January transfer window awhile trying to buy Gareth Barry, thus circumventing the rule preventing clubs loaning more than one player from the same place – only for the move to collapse when Fernando remained at Porto. Poor Everton have since had to use some of their own players, with predictable results.
Another player who might move this summer is the Burnley striker and Countdown favourite Danny Ings. Ings has suffixed 20 goals so far this season, and with Stoke as undeadly in front of goal as ever, Mark Hughes is contemplating making an offer. No doubt Ings is thrilled by the mere prospect.