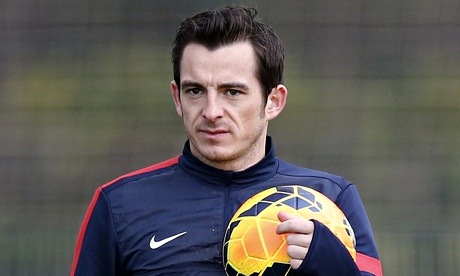 England's Roy Hodgson said of Leighton Baines, above: 'It's the right moment to look at Luke [Shaw] and Ashley [Cole], as Leighton has been playing regularly for us.' Photograph: Adrian Dennis/AFP/Getty Images
Steven Gerrard made the most valid point. "You need to understand Steve Peters can't help you do a Cruyff turn better," the England captain said. "He won't help you hit a 40-yard pass any more accurately. Steve Peters is not going to help the players run an extra 100 or 200 metres or go any faster."
England have made an astute appointment judging by the reference Gerrard delivered on behalf of the sports psychiatrist he has been seeing at Liverpool – without talking about it before now – since a difficult period, four years ago, when he was diagnosed with a career-threatening groin injury. "He can teach you what goes on in your head," he said. "I didn't know what was going on in my head until I saw him. And if you buy into it, he's the best."
If anything, the surprise is that the Football Association has waited until now before bringing in someone to fill this kind of specialist role. Roy Hodgson said the next appointment would be a nutritionist and, again, it seemed slightly strange that no one was already in place.
What is not particularly fair – and Hodgson made this point as well as Gerrard – is to assume the latest addition to England's backroom staff will be able to put everything right when it comes to that old English problem of penalty shootouts. Of course, Peters may be able to help focus minds. Yet he is not around for the Denmark friendly and has not exactly been given a great deal of time. "If you work with a mental coach, you have to work months before," according to Sven-Goran Eriksson, the former England manager. "You can't start when you are in the World Cup. Before you are there, the players are all at different clubs. It's difficult practically to do it."
Eriksson used to employ his own psychologist, Willi Railo, and wishes he had brought him in earlier. "If you talk about psychology, I should have taken a mental coach for training and shootouts. Penalties? It's mental, not technical. You take the ball from the halfway line, walk and how many thoughts go through your head?"
All the same England's problems have generally been more about a lack of refinement on the pitch, rather than an absence of nerve. Hodgson talked at length about how much happier he is with his squad now than when he was parachuted into the job just before Euro 2012 but it is still sobering to see the players who currently cannot even make it into Spain's squad. Juan Mata, Fernando Torres, David de Gea, Fernando Llorente, Álvaro Arbeloa, Isco, Carles Puyol and David Villa failed to make the cut for Wednesday's friendly against Italy. What Hodgson would give for those options.
He does, however, have reasonable competition to fit around the established spine of his team. He has informed Leighton Baines he will sit out the Denmark game to let Ashley Cole and Luke Shaw share the left-back spot and that omission actually counts as a compliment to the Everton player, pretty much affirming his status as first choice for that position.
"All three of them want to play but even with substitutions I can't fit in three left-backs," Hodgson explained. "I've spoken to Leighton and he won't feature, unless we get an incredible number of injuries. It's the right moment to look at Luke and Ashley, as Leighton has been playing regularly for us. The two I need to look at in an England shirt are Ashley and Luke."
Cole, with 106 caps, was England's first choice barely a few months ago but losing his place at Chelsea has completely changed the picture. Hodgson spoke favourably of the 33-year-old but reiterated he can no longer guarantee him a place in Brazil. Shaw, by all accounts, has quickly settled into the squad.
On the opposite side Glen Johnson's 50th England cap is assured now Kyle Walker has withdrawn through injury. Johnson could form part of a strong Liverpool influence, with Hodgson considering whether to experiment with Jordan Henderson alongside Gerrard at the base of midfield. The game offers another opportunity for Daniel Sturridge to work on his partnership with Wayne Rooney, and Raheem Sterling is also in Hodgson's thoughts.
"The form he is in at the moment, he is the type of player you would pay good money to go and see," Gerrard said of Sterling. "He gets you off your seat, he is exciting. People see him as a small boy who can be bullied, a weak player, but he is the opposite. He is strong and robust and the pace he has is electric. He will be a big player for this country for a long time."
Walker's departure still leaves Hodgson with a 29-man squad for a game in which England's manager is allowed only six substitutes. He intends to pick a strong side, rather than experimenting too much, but there will inevitably be an awful lot of disappointed players, bearing in mind it is the last chance to impress at this level before Hodgson names his 23-man party on 13 May. After the defeats by Chile and Germany England will also be trying to avoid three successive home defeats for the first time.
"In those last two games we didn't set out to put our best teams on the field and make sure we didn't lose the game," Hodgson said. "We made quite a few experimentations. This is our last game before the World Cup [squad is named] so I'm hoping we won't lose, but I can't elevate it to the importance of the World Cup. If it so happened that we did lose but I learnt some very important lessons that prevented a major mistake when I named the 23, it could be a benefit in disguise. But our aim is to win the game."
A crowd of around 65,000 is expected and Hodgson is unimpressed that an online petition to ban Tom Cleverley from the England team quickly went over 10,000 votes. "That doesn't impress me. I'm disappointed that Tom, as a sensitive young man, has to bear that burden, but I know one thing – he will come through it.
"I don't think it's correct that people should single out one player for Manchester United's lack of success. I don't think you can expect me as a football person and football coach to have any sympathy with that, and I would like to think that I'm not going to have the England team selected in the future by petitions."