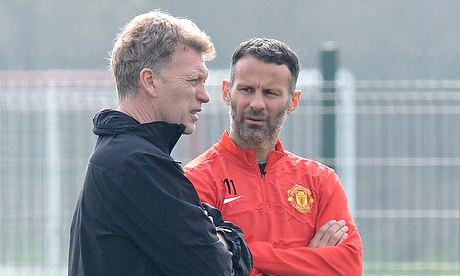 Ryan Giggs is being made to sweat over his Manchester United future by manager David Moyes Photograph: Martin Rickett/PA
David Moyes is considering calling time on Ryan Giggs' glitteringManchester United playing career. The manager may wait until the end of the season before deciding whether to offer a new one-year deal to the 40-year-old, although it is understood there is no guarantee Moyes will do so.
By this stage of the campaign, Giggs has usually signed fresh 12-month terms. Last year the Welshman agreed a new deal on 1 March but with just six matches of the Premier League season to play, Moyes is still deciding whether to offer him fresh terms.
While Giggs said on Monday that he is still enjoying playing but wanted to see how he felt at the close of the campaign, Moyes also wants to assess his options. The Scot is targeting a major overhaul of this squad this summer with midfield an area he particularly wants to strengthen.
Moyes has used Giggs, who is now player-coach, even more sparingly than his predecessor, Sir Alex Ferguson, during his first year in charge. Giggs has made only 13 starts, with his first for two months coming in the 3-0 Champions League win over Olympiakos at Old Trafford a fortnight ago.
In his role as coach Giggs has become peripheral during training sessions and, ahead of Tuesday evening's Champions League quarter-final first leg against Bayern Munich at Old Trafford, he was forced to deny a rift with Moyes, while sitting next to the Scot at the press conference.
"There is no problem with the manager. I don't know where that came from," said Giggs. "The relationship is good. Of course as a player you want to play all the time. I know over the last five or six years you are not going to play every game. I normally play every two or three weeks to get the best out of me. The last game was probably my first for seven weeks but you are not sulking, you just have to be ready to play your best for the team."
Giggs has made a record 961 appearances for United in an outstanding 23-year professional career in which he has won 13 Premier League titles, two European Cups, four FA Cups and four League Cups. He was also voted the Professional Football Association Players' Player of the Year for 2008-9.