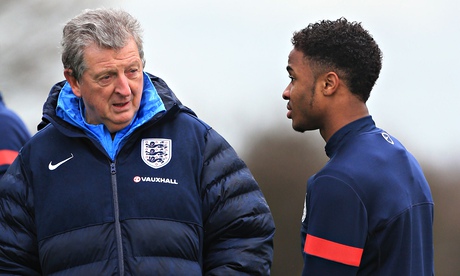 The England manager, Roy Hodgson, talks with the Liverpool winger Raheem Sterling before England's friendly with Denmark. Photograph: Nick Potts/PA
Daniel Agger is confident that Raheem Sterling can handle the pressure of senior international football as he targets a place in England's World Cup squad. Agger, who will be in the Denmark defence that faces England on Wednesday night, said: "He can handle the pressure, or else he would not play for us, for Liverpool.
It's a great opportunity for him. If he continues what he is doing right now I cannot see why not make the World Cup squad. He is a great, great talent and has some qualities England can use."
Despite finishing second in their group to Italy, Denmark did not qualify for the play-offs and so missed out on this summer's finals in Brazil. Their coach, Morten Olsen, has brought a mixed squad to London, with the Tottenham midfielder Christian Eriksen doubtful because of a back injury.
Nevertheless, Agger feels the Danes can make a statement with a solid display at Wembley. "We obviously know that it is a strong team we have to play, but we have come here to win and we want to win," he said.
"This is a great experience for young Danish players to come to this beautiful stadium.
"We have players who play in England, but all of the players here have grown up watching English football."
Agger is hoping for a chance to switch off from Liverpool's title challenge for a few days.
"I think as a footballer you have to look at the next game, and the next game is against England for Denmark, so I can put that away for a bit, and as soon as that game is finished, back to Liverpool," he said.
The striker Nicklas Bendtner is expected to feature at Wembley despite not being a regular at Arsenal. The 26-year-old was on the verge of leaving the Gunners in the summer, but had looked in good form before being sidelined by an ankle injury.
Bendtner now appears behind fit-again Yaya Sanogo in the pecking order, but will continue to try to force his way back into Arsene Wenger's plans.
"If you can find a footballer who says he is happy to sit and watch and not play, then I think he needs to find a different job. I want to play, there is no doubt in my mind," he said.
"I am fit and ready, am training well. That I am not selected is up to the manager, it is not up to me.
"All I can do is train well, which is what I am doing.
"If the manager chooses differently, then that is up to him."
Both Arsenal midfielder Jack Wilshere and Alex Oxlade-Chamberlain are hopeful of making it into Hodgson's final 23-man squad for Brazil.
Bendtner said: "How they have played recently, I would have thought so.
"Alex has come back really strong since his knee injury and has scored a lot of important goals for us."
Arsenal slipped four points behind leaders Chelsea following defeat at Stoke.
Bendtner, though, insists the Gunners are not about to throw in the towel.
"It will be difficult, there are a lot of good teams, but I am sure we will be fighting to the end to win," he said.