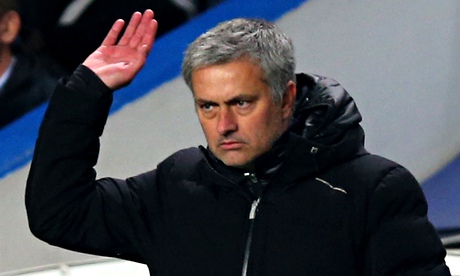 José Mourinho expects Chelsea to lose a game or two before the end of the season. Whether he means that is another matter. Photograph: Clive Rose/Getty Images
TS Eliot thought April the cruelest [sic] month, though it is possible the American-born poet had never heard of squeaky-bum time, which this season seems set to take place in March.
At least that is true at the top of the Premier League, where Chelsea and Tottenham reach 30 games at the weekend. Others have a game or more in hand, cup competitions and weather postponements have left the top six or seven looking a bit straggly over the last few weeks, but once teams pass the 30-game mark the title run-in can be said to have started.
By the end of this month it could be almost over. Should Chelsea win their next two games, away to Aston Villa on Saturday then at home to Arsenal the following week, no one is going to bet against José Mourinho's side running away with the title, whatever the manager has to say about preferring to be in City's shoes. City, after their FA Cup calamity against Wigan and the tricky matter of trying to make up a two-goal deficit in Barcelona, will do well to keep their winning form in the league going at Hull on Saturday.
Steve Bruce's side are full of confidence, they will be well rested after their Cup success last weekend, and when Chelsea visited the KC Stadium in January, they needed Eden Hazard at his best to break the deadlock. Should City stumble on Humberside, and they have already been beaten away from home by such high-fliers as Cardiff and Sunderland, the game could be up later the same day when Chelsea run out at Villa with the possibility of opening up a double-figure gap over Manuel Pellegrini's side.
Mourinho knows that, of course, which is why he is claiming City are in the better position to maximise the pressure on the team he sees as the biggest threat. Whether he is right in assuming he has only City to worry about is debatable. Both Arsenal and Liverpool are seven points behind with a game in hand, though Arsenal's next two league games are the two London derbies they dislike most, away to Spurs then away to Chelsea.
If Arsenal are going to get their European disappointment out of their system and make a concerted effort to regain the league leadership, they will need to do it this month. They will have to win both those matches, and they will have to do so without Mesut Özil.
Should they manage to do so it would take Chelsea down a peg and give everyone else a little hope, though it would take a phenomenal performance from Arsenal to take all the points from Stamford Bridge and by that stage they may be coming round to the idea that there are worse sights on the sideboard than the FA Cup. It is tempting to wonder at what point in the season Arsène Wenger will start resting players and fielding weakened teams to be able to put out his strongest possible side against Cup kings Wigan.
Liverpool, famously, have nothing else to play for except the league, did not even have a game last weekend, and are the wild card in the fight for the top four places. When it was suggested here about two months ago that Liverpool could probably aim higher than fourth place (the minimum goal they have set themselves) there were howls of derision. Many people even doubted they would stay the course and manage that, though having climbed to second place and scored more goals than anyone else in the division it must be conceded that they deserve to be included among the title contenders, particularly as they have no distractions, while Chelsea are still in Europe.
They are a long way from being favourites, but if they can win at Old Trafford on Sunday – and they used to be able to do that even when Manchester United were on the way to titles themselves – their home game against Chelsea at the end of April still gives them a theoretical chance as long as Mourinho's players have lost a game or two by then.
Mourinho said the other day he expects Chelsea to lose a game or two between now and the end of the season. Whether he means that is another matter, but Brendan Rodgers has to take the opposite view. As long as Liverpool keep on winning they have a chance; if they can win every game they have a great chance. That's a tough ask, of course, especially when they meet teams of the calibre of Manchester United, Spurs, Chelsea and City in their remaining 10 games, but anyone who witnessed Liverpool destroying Arsenal, Tottenham and Everton this season would not deny that Rodgers' side can live with the best.
It is only the defensive mistakes (of the type Chelsea tend not to make) that make people doubt Liverpool, and the fact that either side of the impressive dismantling of Everton in the Merseyside derby were four points thrown away against Aston Villa and West Bromwich Albion.
The question of which Liverpool side will turn up at Old Trafford on Sunday is likely to be overshadowed by the consideration of which United side is likely to show up. There are United fans arguing that it is still possible to claim a top-four place based on the "best performance of the season" at West Brom last week. United were quite good at The Hawthorns, to be fair, albeit against a feeble home side, though this game is no longer the battle for fourth place it appeared earlier in the season. United have an awful lot to do, even if they win on Sunday, and Liverpool could still finish higher than fourth even if they lose.
By the end of the weekend things should be a lot clearer. By the end of the month, when City have visited Old Trafford and the Emirates, it could be all over. Right now you would put your money on Chelsea staying ahead of City, with Liverpool as dark horses. But to keep up the pressure Liverpool must win on Sunday.
That in turn puts pressure on David Moyes, who may be regarding the Champions League as a greater priority than the Premier League. So does he name his strongest possible side against Liverpool, and risk tiredness against Olympiakos three days later? Or would United fans prefer to see Liverpool stopped at all costs even if it impacts on freshness for the European tie? Given the outcry that followed the limp defeat in Athens, one imagines Moyes would not relish the adverse publicity involved in going out to a moderate Greek team, but neither would he want squad confidence to be savaged in advance by a rampant Liverpool. Two wins are required, or perhaps at minimum a win against Olympiakos and a fighting draw with Liverpool. Only then can United look forward, if that is the right expression, to the derby with City the following week.
It is a big month for all the top four teams, but no one has a bigger month than the club lying sixth. While Moyes must be beginning to feel there is never any other sort of month at United it is worth remembering that his predecessor not only thrived on these situations but gave every impression of enjoying them. Never mind fourth place, that is the gap that Moyes is tasked with bridging.