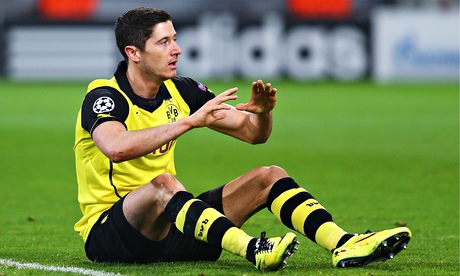 A frustrated Robert Lewandowski will miss the first leg of the Champions League quarter-finals after being booked against Zenit. Photograph: Alex Grimm/Bongarts/Getty Images
Borussia Dortmund may have eased into the Champions League quarter-finals with an aggregate victory over Zenit St Petersburg but the players are unhappy with the lack of backing they are getting from their fans.
"I really do not like this. Every time we lost possession you could hear moans in the crowd," their midfielder Kevin Grosskreutz said.
"We do not need moans, we need support. Afterwards you can whistle but during the game we need the support."
Last season's runners-up went through 5-4 on aggregate but weredefeated 2-1 at home on Wednesday and their lacklustre performance received a muted response in the stadium.
"Some in the team are really affected by this," the captain Sebastian Kehl said. "A home game should be a positive experience and not feel as if we have committed some sort of crime."
Their coach, Jürgen Klopp, agreed, saying: "We as Borussia Dortmund have to learn that a great success sometimes is hidden in a 2-1 defeat. In the last eight, there is the cream of European football and us. This team has really deserved this because of how they have fought on despite all the setbacks."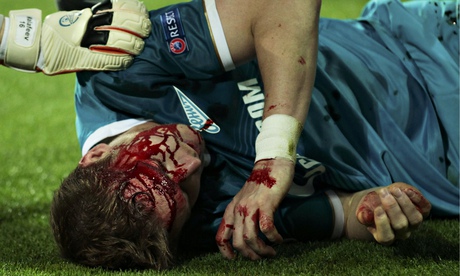 Tomas Hubocan feels the effects of a clash with Lewandowski. Photograph: Ina Fassbender/REUTERS
Borussia go into Friday's draw with a host of missing players. The defender Marcel Schmelzer strained his adductor muscles and will be out for four weeks and their striker Robert Lewandowski is suspended for the first leg in April after being booked on Wednesday.
With the central defender Neven Subotic and midfielders Sven Bender, Ilkay Gündogan and Jakub Blaszczykowski also missing through injury, Klopp will need to shuffle his pack in the next round.
"Look at what kind of injury setbacks we have had to deal with and play football this season," the midfielder Nuri Sahin said. "We are in the last eight and that is something that should be looked at carefully and honoured."