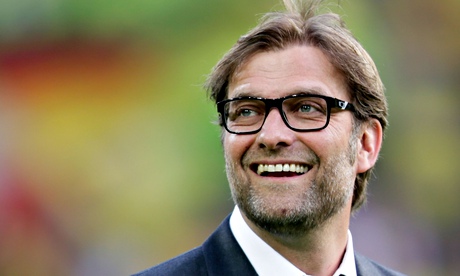 Jürgen Klopp is all smiles after Borussia Dortmund progressed through to the Champions League quarter finals. Photograph: Joern Pollex/Bongarts/Getty Images
Borussia Dortmund eased into the quarter-finals of the Champions League despite defeat on the night against Zenit St Petersburg.
With a 4-2 away win in the bank, Borussia held almost all of the cards and played them conservatively to secure their passage even as they lost 2-1 on home soil.
Hulk's 16th-minute wonder strike for Zenit was cancelled out by Sebastian Kehl seven minutes before half-time, and although Zenit substitute Rondón scored a second with 17 minutes to go, there was little threat of them getting back on level terms.
The only significant negative for Jürgen Klopp was a yellow card for star striker Robert Lewandowski, ruling him out of their next match.
It should have been even easier for Dortmund, but they wasted perhaps the best chance of the night five minutes in when Pierre-Emerick Aubameyang beat his man to reach a near post cross all alone, only to head inexplicably wide.
Lewandowski then worked space on the edge of the area but failed to get any real power on his low drive.
Zenit had threatened with a decent effort from Axel Witsel, gathered at the second attempt by Roman Weidenfeller, but when their goal came, it came out of nothing as Hulk, with his back to goal 30 yards out, spun away from his man and then hit a fierce shot into the top left-hand corner.
Dortmund were hardly stung into action, allowing Zenit to dominate possession for long periods but doing enough to prevent the Russians from creating any clear openings.
Then, attacking at almost walking pace, Dortmund scored the goal which struck at Zenit hearts, as Kehl broke into the area to connect with Marcel Schmelzer's cross, heading it down into the ground as Viacheslav Malafeev could only help it on its way.
Moments later, a mix-up in the Zenit defence forced Malafeev to race out and clatter into Lewandowski just outside the area, but although the Dortmund fans appealed loudly, they got no more than a throw-in.
Dortmund shut the game down in the second half as the pace slowed further.
Hulk blazed a free-kick over, but if anything it was Dortmund who looked more likely to score as they began to create chances from set-pieces and Zenit looked increasingly resigned to their fate.
With the play taking place in near slow-motion, Rondón was able to slip past the sleeping Mats Hummels to head in a second for Zenit in the 73rd minute, but other than a late, dangerous cross from Hulk which eluded his team-mates, there was no sign of a rally from the visitors.