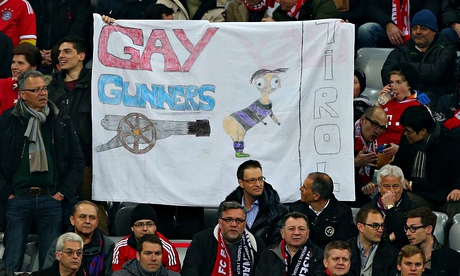 Bayern Munich fans show a homophobic banner at Tuesday's Champions League meeting with Arsenal. Photograph: Kieran McManus/BPI/Rex
Uefa has opened disciplinary proceedings against Bayern Munich after a homophobic banner targeting Arsenal's Mesut Özil was seen during Tuesday's Champions League tie.
The sign – which branded Arsenal "Gay Gunners" and featured a crude caricature of the German midfielder – was captured by television cameras in the 1-1 draw at the Allianz Arena and then widely circulated on social media.
"Disciplinary proceedings have been opened against FC Bayern München for discriminatory behaviour of their supporters (Article 14 Uefa disciplinary regulations), display of an illicit banner (Article 16(2e) DR) and late kick-off (Article 11(2g) DR) at their Uefa Champions League round of 16 match against Arsenal FC, the 1-1 draw in Germany on Tuesday," read a statement released by the governing body on Wednesday afternoon.
"The case will be dealt with by the Uefa control and disciplinary body on 20 March."
The Bundesliga champions are under further scrutiny after a fan was spotted with a banner supporting Kosovo's application to join Fifa during the Arsenal match. Cameras picked up a sign which read "Say No to racism, Say Yes to Kosovo" in reference to the campaign to have the territory officially recognised by Fifa.
Kosovo made history last week when they drew their first-ever friendly match with Haiti but have yet to be recognised as a full member of Fifa.
If found guilty of either offence, Bayern are likely to face a substantial fine and a warning about their future conduct. In December, Celtic were fined €50,000 by Uefa for "illicit" banners at the home defeat by Milan.