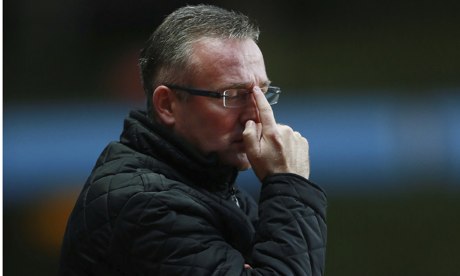 The Aston Villa manager, Paul Lambert, said he was 'gutted' after the FA Cup defeat by Sheffield United. Photograph: David Davies/PA
Paul Lambert was "gutted" to see Aston Villa dumped out of the FA Cupby League One's Sheffield United and refused to accept that his pre-match comments about the competition had contributed to a dismal performance.
The Villa manager, who had tickets torn up and thrown at him as he walked to the tunnel at the final whistle, claimed he "never demeaned the competition one bit", despite having said Premier League clubs could do without the FA Cup.
Ryan Flynn's goal nine minutes from time gave United, who are 18th in League One, a deserved 2-1 victory over a poor Villa side, who have won only two and lost six of their 10 home league games this season. "I never saw that," Lambert said, when asked about the tickets being thrown. "I've been in the game long enough to know what it's like. I'm just as gutted as everyone else at the club. Fans pay their money to come and watch, hard-earned money, so it's up to us to give them something to be happy about and today we never did that."
Of the remarks he made about the FA Cup before the match, Lambert said: "I never demeaned the competition one bit, I respect its history, I respect what the competition is about. If you look at my own career I've won some nice things through cup competitions. In the context of the whole interview there was never any way I was decrying the competition at all."
Nigel Clough, the Sheffield United manager, was euphoric. "I can understand completely Paul's sentiments [about the FA Cup] and their position, but for us and our 6,000 supporters that came today you saw how much it meant. It is still a special competition."