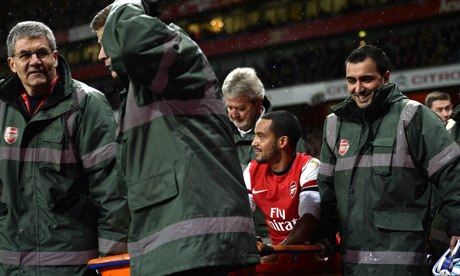 Arsenal's Theo Walcott was taunted by Tottenham fans as he was carried off and responded by reminding them of the score. Photograph: Dylan Martinez/Reuters
Arsène Wenger has defended Theo Walcott after the injured forward gestured the winning 2-0 scoreline to Spurs fans as he was taken off on a stretcher past them during Arsenal's FA Cup third round win against their north London rivals. The manager was dismissive of any claims of misconduct, citing the missiles thrown at the player – and striking one of the medical staff helping to carry Walcott off the pitch – as incitement.
"The doctors said the coins were raining over his head and they had to protect him," Wenger said. "Maybe that is why he did that [scoreline gesture]. It is not offensive. I have seen the pictures after the game and he does not even look aggressive. He is just smiling."
Asked if he thought there would be any Football Association action against his player, Wenger expressed doubt. "I don't think so," he said. "You look for every single incident, and I understand that. But at some stage it is a reaction. If they judge it offensive what can I say?"
The FA will wait until receiving the match report of referee Mark Clattenburg before deciding whether the incident warrants investigation.
Walcott left the pitch with a knee problem, having led the line with verve. "We don't know if it is a stretched ligament or just a kick. But we still had [Lukas] Podolski and [Mesut] Özil on the bench and [Olivier] Giroud was just ill so should be available for the next game."
He also reported "good news" on Nicklas Bendtner's injury, with the Dane expected to be out for one month, far less than they expected.
Wenger felt his side, which included several fringe players, had been good value for their win. "Every time, when our game is based on movement and quick, sharp passing, we looked dangerous."
Tim Sherwood lamented that his team were "fatigued" as he tried to write off the experience as a bad day at the office. The recently installed Tottenham manager dismissed Walcott's gesture as "just a bit of banter" but did not wish to be drawn on whether Spurs supporters threw missiles at the Arsenal player. "I haven't seen it. If they did it's a problem. If they didn't it's not a problem."