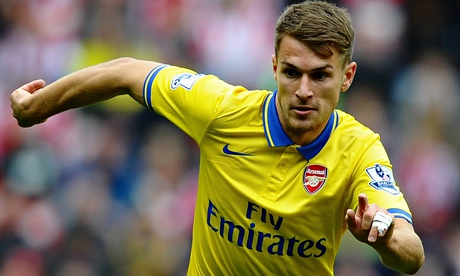 Arsenal's Aaron Ramsey has not played since Boxing Day because of a thigh injury but had targeted a return against Spurs. Photograph: Laurence Griffiths/Getty Images
Aaron Ramsey is unlikely to return in Sunday's north London derby against Tottenham Hotspur as Arsène Wenger frets over the full extent of Mesut Özil's hamstring injury, with the initial indication being that the German will be out for a month.
Ramsey has long targeted the visit to Tottenham – the first of a difficult sequence of Premier League fixtures that could define Arsenal's title challenge – and when he returned to full training at the beginning of last week, he looked to be on course.
Ramsey, the club's star turn over the first half of the season, has not played since Boxing Day, when he damaged his thigh at West Ham United. Arsenal have pushed him in training but he is expected to be short of the required levels for the trip to White Hart Lane.
Özil was forced off at half-time of the club's Champions League last-16 second-leg tie at Bayern Munich on Tuesday night, which they drew 1-1 to fall 3-1 on aggregate, and Wenger said that the injury looked quite serious and would rule the midfielder out for at least a few weeks.
Özil saw the Bayern and Germany doctor, Hans-Wilhelm Müller-Wohlfahrt, at half-time but he flew back to London with the Arsenal squad, where he continued to be assessed on Wednesday. The full picture will be clear on Thursday but it is already understood that Özil will miss the league games against Tottenham, Chelsea, Swansea City and Manchester City and, most probably, Everton on 6 April. Arsenal face Wigan Athletic in the FA Cup semi-final at Wembley on 12 April.
Kieran Gibbs who missed the Bayern second leg with ankle damage, is a doubt for Tottenham but Wenger expects to have Nacho Monreal available at left-back again after a foot problem. Kim Kallstrom, the January loan signing, who has been hampered by a back injury, comes into contention for his Arsenal debut.
Meanwhile, Mikel Arteta has embraced the pressure that comes with Arsenal's status as the overwhelming favourites for the FA Cup and said that a trophy for the club would represent the turning point for their fortunes.
The midfielder was a part of the team that saw one more route to silverware blocked off on Tuesday night in the Champions League last-16 exit to Bayern Munich. But, like every Arsenal fan, he knows that opportunity knocks loudly in the FA Cup while he has not given up hope in the Premier League, where the club sit seven points off the title pace, with a game in hand.
Wigan Athletic's shock FA Cup quarter-final win at Manchester City was greeted with delight at Arsenal. They now face Wigan in the semi-final and, if they win, they would play either Hull City or Sheffield United in the final.
Having already defeated Tottenham, Liverpool and Everton in the competition, Arsenal might feel that they have earned the right to what is, in theory, a favourable draw. But with City out, and Arsenal as the only remaining big name, there is the widespread expectation that they are primed to end the trophy drought that has undermined them. The club's last major honour was the FA Cup in 2005.
"I think it would be a turning point for the club," Arteta said. "Because for such a long time, we don't win anything. It gives you a lift, the belief that you can start to go in the right direction and hopefully we can do it. We know we are favourites and we know that puts more pressure on us but we are happy with the situation in the Cup.
"We have a great chance. There is still a month to go [to the semi-final] and we have some really tough games coming up. That's why it is important to get some momentum for that moment and get there with the belief and in good form. We want to fight for the league, for sure, and we have a great chance in the FA Cup as well. We need to enjoy the moment and make the most of it because I think we can do something good."