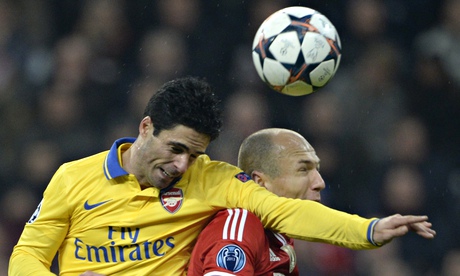 Arsenal's Mikel Arteta, left, challenges Bayern Munich's Arjen Robben in Tuesday's Champions League game. Photograph: Johannes Eisele/AFP/Getty Images
Mikel Arteta has embraced the pressure that comes with Arsenal's status as the overwhelming favourites for the FA Cup and said that a trophy for the club would represent the turning point for their fortunes.
The midfielder was a part of the team that saw one more route to silverware blocked off on Tuesday night in the Champions League last-16 exit to Bayern Munich. But, like every Arsenal fan, he knows that opportunity knocks loudly in the FA Cup while he has not given up hope in the Premier League, where the club sit seven points off the title pace, with a game in hand.
Wigan Athletic's shock FA Cup quarter-final win at Manchester City was greeted with delight at Arsenal. They have now been drawn to face Wigan in the semi-final on 12 April and, if they win, they would play either Hull City or Sheffield United in the final.
Having already beaten Tottenham Hotspur, Liverpool and Everton in the competition, Arsenal might feel that they have earned the right to what is, in theory, a favourable draw. But with City out, and Arsenal as the only remaining big name, there is the widespread expectation that they are primed to end the trophy drought that has undermined them. The club's last trophy was the FA Cup in 2005.
"I think it would be a turning point for the club," Arteta said. "Because for such a long time, we don't win anything. It gives you a lift, the belief that you can start to go in the right direction and hopefully we can do it. We know we are favourites and we know that puts more pressure on us but we are happy with the situation in the Cup.
"We have a great chance. There is still a month to go [to the semi-final] and we have some really tough games coming up. That's why it is important to get some momentum for that moment and get there with the belief and in good form. We want to fight for the league, for sure, and we have a great chance in the FA Cup as well. We need to enjoy the moment and make the most of it because I think we can do something good."
The challenges continue to come thick and fast, with Arsenal going to Tottenham Hotspur in the league on Sunday and Chelsea the following Saturday. They then play Swansea City and Manchester City at home, and Everton away before the Wembley semi-final against Wigan.
"We have two massive games away from home – Tottenham and Chelsea," Arteta said. "We have to recover, get the legs back [after Bayern] and focus. We have to take the positives and try to get on a good run."
The positives from Bayern, where Arsenal drew 1-1 to exit 3-1 on aggregate, were located principally in how they restricted arguably the best team in world football. With Laurent Koscielny and Per Mertesacker outstanding in central defence, the goalkeeper Lukasz Fabianski was not over-worked, although he did save an injury-time penalty from Thomas Müller.
Arsenal showed their character to equalise on the night through Lukas Podolski, even if it was clear that he got away with a push on Philipp Lahm before scoring and there was frustration when they missed a couple of passes that might have led to a second goal.
"Every team that has come to Bayern recently has been battered five or six-nil so that's the last thing you want with the experience we had at Liverpool," Arteta said, with a nod to the 5-1 defeat at Anfield on 8 February and how it affected the squad. "I think the second-half was very good and the way we kept them pretty quiet as well … we can take some positives.
"Even when they scored, we kept believing. We scored the goal from Luka and we had some situations where, if we could make a better decision with the last pass, we would have got the second one and the game was on. But you are talking about probably the best team in Europe at the moment."
Arsenal's other Spanish midfielder, Santi Cazorla, is close to agreeing terms on an extended contract. He will follow a clutch of players who have committed their long-term futures to the club.