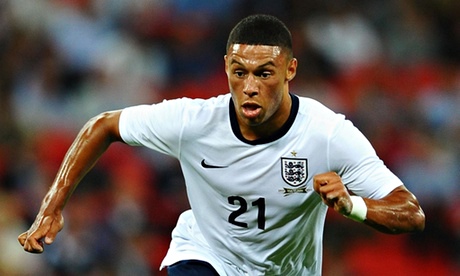 Alex Oxlade-Chamberlain in his England kit. He admitted to being keen on Neymar's Brazil shirt. Photograph: Laurence Griffiths/The FA via Getty Images
Alex Oxlade-Chamberlain has admitted to committing a faux pas by asking to swap shirts with Neymar during England's friendly draw withBrazil at the Maracanã last summer.
The Arsenal winger was criticised at the time by Roy Keane, who was working as a pundit on the game, for approaching the hosts' striker in a bid to secure his No10 shirt at full-time.
"Roy hammered me for it but, to be fair, I did ask him during the game," said Oxlade-Chamberlain, who had entered the fray as a second-half substitute and duly scored the visitors' opening goal to equalise. "But I agree with Roy: it's not the way to go about things. To be fair, I didn't try and make it too blatant. It just happened that the camera landed on me right at the time I nudged him.
"It's not the ideal thing to be doing during the game, I have to hold my hands up. You're not in awe of these players. It's a mutual respect, especially a player like Neymar, a player of a similar age to me and someone I've got massive respect for what he's done in world football."
The England midfielder, who hopes to earn his 14th cap against Denmark on Wednesday, admitted the Brazilian's shirt is now gathering dust "in a drawer at home".