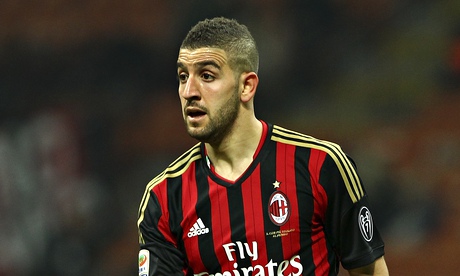 Adel Taarabt has scored twice in five Serie A matches, against Napoli on his debut and in the 2-0 victory at Sampdoria when he was also man of the match. Photograph: Marco Luzzani/Getty Images
There are myriad tales in Neil Warnock's autobiography that provide an insight into the challenge of Adel Taarabt. Here was a player whom Warnock, on arriving at Queens Park Rangers, instantly realised had the ability to win games single-handed. Yet the message to the manager from those already at the club was resounding.
"The staff I inherited told me: 'You can't play him, he'll get you the sack. He doesn't give a toss about the team, he just pleases himself,'" recounts Warnock, before detailing the various occasions when the midfielder's penchant for erratic behaviour left him at his wits' end.
There were the matches when Taarabt would barely break out of a jog, the half-time bust-ups with team-mates who were running his extra miles, the time, Warnock claims, that Taarabt went awol for days with barely an explanation and the occasion he allegedly dragged Warnock out to Morocco on a wild goose chase, promising to meet him at a specific hotel. After three nights alone, Warnock gave up.
In the end Taarabt played an integral role in QPR's 2010-11 promotion season, producing countless moments of quality that elevated the club to the Premier League for the first time in 15 years.
He is a player Harry Redknapp labelled "a fruitcake" and Martin Jol described as "a Maradona type of talent". Whichever of those epithets is closer to the truth, it is fair to say that three years ago there were few who would have predicted that Taarabt would be playing for Milan in theChampions League.
Yet on Tuesdayhe will line up for the Rossoneri at Vicente Calderón for the last-16 second leg against Atlético Madrid, having featured for 90 minutes of Milan's 1-0 home defeat by Diego Simeone's side.
The Moroccan, who is still registered as a QPR player, has experienced an unlikely rise over the past few months. Whether he will ever represent the London club again is doubtful, having tasted the rich fruits of elite European football while Rangers scrap it out in the play-off places of the Championship.
Taarabt's move to San Siro in January, on loan until the end of the season, was a major surprise. After a disappointing campaign at Fulham the previous year the 24-year-old's career appeared at a crossroads, yet he has adapted to life in Milan with admirable distinction.
Perhaps Taarabt can no longer behave like the big fish in an overflowing pond. QPR announced significant financial losses last week and a greater wage budget than Borussia Dortmund, while Milan are embarking on a new era under Clarence Seedorf, a man whose exploits as a player warrant immediate respect from the dressing room.
Milan's squad was already peppered with volatile and eccentric characters before Taarabt's arrival, and the Moroccan appears to have fitted in seamlessly alongside Mario Balotelli, Robinho, Stephan El Shaarawy and Nigel de Jong, producing some notable displays in Italy.
Taarabt has scored twice in five Serie A matches, against Napoli on his debut and during the 2-0 victory at Sampdoria when he was also man of the match. His effort at San Paolo was particularly impressive, carrying the ball half the length of the pitch just eight minutes into his debut before coolly netting from 25 yards.
It was a demonstration of the quality that most in the English game knew he possessed. But perhaps at Milan Taarabt has found a club that he feels is befitting of his talent. He has never lacked confidence – indeed only last week did he declare that he could "become the Messi of Milan" – yet at times the baggage has outweighed the brilliance.
Under Seedorf his performances on the pitch have been the talking point, rather than his behaviour off it. Taarabt is confident of a victory in Spain on Tuesday night, despite a disappointing 1-0 defeat by Udinese on Saturday that leaves Milan 10th in the table.
"At San Siro we should have won, the match could have ended 2-0 but we were unlucky," said Taarabt. "However, on Tuesday we won't have any fear to face Atlético. They are strong, they are at the top of La Liga but the Champions League is another kind of competition.
"At home we showed that we are able to dominate and I don't see why we cannot do it there as well. We must be 100% focused for the game on Tuesday, which will be the most important one of the season."
Diego Simeone, the Atletico manager, has claimed that Milan's attacking midfield, which is set to include Taarabt, must be stopped if his side are to advance to the quarter-finals. "The clash will depend on the intensity we produce in the midfield," he said. "An open game will better suit Milan. They are an attacking team given the characteristics of their players. We need to make the most of the space they give us."
If Taarabt can help overturn the 1-0 deficit and inspire the Rossoneri to a famous victory in the Spanish capital, Milan will claim his signing was a gamble that paid off. He has proved that he has the talent to stay at the top, but who knows what is round the corner.