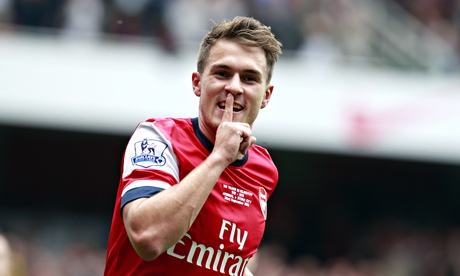 Arsenal's Aaron Ramsey, pictured celebrating against Stoke in September, has been out injured since Boxing Day. Photograph: Stewart Kendall/Sportsphoto Ltd/Allstar
Aaron Ramsey will give Arsenal a major boost this week by signing a vastly improved five-year contract with the club. The Wales international has agreed a deal worth in excess of £100,000 a week, more than doubling his current salary and making him the second-highest paid player at Arsenal, behind only Mesut Özil.
Ramsey had more than two years remaining on the deal he signed in December 2012 but it is a measure of how highly Arsène Wenger regards the 23-year-old midfielder that the Arsenal manager was keen to extend the player's contract at the earliest opportunity as well as approve a significant wage increase.
It is understood that negotiations have been taking place between Ramsey's agent, David Baldwin, and Arsenal for the last month, and the club are set to announce confirmation of the new contract in the next 48 hours.
In another piece of good news for Arsenal supporters, Ramsey has returned to full training this week, after being sidelined for more than two months with a thigh injury. There is no possibility of Ramsey featuring in the FA Cup quarter-final at home against Everton on Saturday but there is an outside chance that he will be in the squad that travels to Bayern Munich next Tuesday, when Arsenal will need to overturn a 2-0 first leg defeat to reach the last eight of the Champions League.
Ramsey's new contract – following the announcement that Per Mertesacker and Tomas Rosicky have signed extended deals – is the fourth that he has signed at Arsenal since joining from Cardiff City for £5m six years ago, at the age of 17, and reflects his growing status not only at the club but in world football. His sensational form earlier this season, when he scored a remarkable 15 goals for club and country by the end of November, brought widespread acclaim and led to interest from leading clubs on the continent, including Barcelona and Real Madrid, as well as Manchester City.
Arsenal, however, have no intention of losing a player whose best years are ahead of him and who is regarded as central to the club's future success. Wenger hugely admires Ramsey's attributes and has invested great time in developing the player he convinced to join Arsenal ahead of Manchester United as a teenager.
Even when Ramsey fractured his fibula and tibia in a challenge with Stoke City's Ryan Shawcross at the Britannia Stadium four years ago, and took an extended period to recover psychologically as well as physically from the trauma of that career-threatening injury, Wenger's faith in the player never wavered. This season has been vindication for the Frenchman.
After finishing the previous campaign strongly, Ramsey's outstanding performances in the centre of midfield helped to propel Arsenal to the top of the Premier League and made him a leading contender for the Professional Footballers' Association's Player of the Year award until his season was disrupted by injury.
Ramsey picked up a thigh strain in the 3-1 victory at West Ham United on Boxing Day and aggravated the problem in training at the end of the following month. He has not played since but now hopes to return in time to play a major part in the run-in.